SmartFabricSM
The broadest, deepest, most accurate location intelligence in one accessible place
SmartFabric integrates the breadth and depth of LightBox's geospatial data solutions to create comprehensive and highly accurate mapping giving you the ability to find exact property location details. 
Connected data assets
Access to the most reliable location and property data, including parcels, building footprints, addresses, tax and deed data, zoning information, residential and business usage, business unit counts, and more.
Data management
Built on a consistent data model for straightforward data onboarding and integration.
Continuously improved and refreshed
LightBox uses over 5000 data sources to continuously deliver high-accuracy data for all 50 states, Washington D.C, and U.S. territories.
Accuracy
Solves for needs that require a high level of fidelity and location accuracy over a large area, including rural regions.
National Coverage
Largest nationwide collection of parcel boundaries and building footprints, and complete address universe for both residences and businesses.
LightBox Identifier
Our unique, persistent identifier to view connected data assets.
The power of SmartFabric delivered through LightBox APIs
LightBox's experience helps you create workflows to analyze data and bridge the Digital Divide.
Navigate between assets - APIs to navigate from address to building, building to parcel, parcel to assessment and any combination thereof. 
Pre-processed and normalized- All of the content that is delivered through LightBox APIs is pre-processed and has been normalized, so it's ready to be consumed by your app or portal. 
Currency - Our databases get updated nightly so the data in your app or web portal will always be the latest data LightBox has available 
On-demand access - Connect with the SmartFabric APIs along with a complete library of additional data assets to gather specific data insights within seconds
Get to market quickly - LightBox APIs lets you spatially enable your app or web portal in weeks instead of months, so you can quickly begin providing value to your users.
Let LightBox do the heavy lifting - LightBox works behind the scenes to source, normalize and continually maintain our datasets. This allows your company to focus on your expertise and not need to spend valuable time maintaining such a large property universe.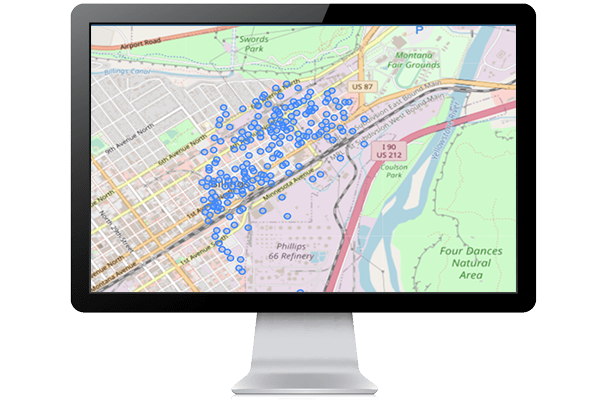 Benefits of using LightBox APIs within your workflows
Secure, lightweight, powerful APIs that are available 24/7.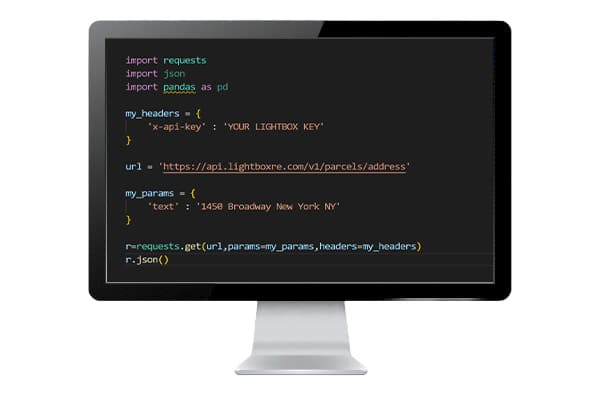 Access to the SmartFabric universe through easy-to-implement RESTful APIs.
Free up your data team to optimize their time and let LightBox do the heavy data processing, normalization, and management of core datasets.
Connectivity is built into the LightBox APIs using the LightBox IDs.
Continuous access to the most current data available.
Add SmartFabric data to your mapping applications.
APIs included within the SmartFabric Solution
Access to the LightBox core APIs to support your workflow needs.
Geocoder API
The LightBox Geocoder enables connections from an address to the SmartFabric record.
The geocoder identifies how well it matched to the input address with a multi-factor confidence score, allowing your application to be confident in the address it returned.
Not only will the LightBox Geocoder return the coordinates, it also returns a precision code that identifies how accurate the location is (rooftop, parcel centroid, etc.)
Connectivity is built into the LightBox Geocoder. Each response will include LightBox IDs that link back to parcels, assessment, structures, and location data. 
The autocomplete endpoint makes type-ahead easy for your end users.
Reverse geocoding is supported. If you have a point location rather than an address, we will return one or more addresses that are closest to that point location.
The response includes the parsed address components, along with the address, city, state, and country. 
Parcels API
API endpoints work with the SmartFabric Parcel layer.
Access to the Parcel boundary and key parcel attributes.
Understand the complete lot(s) with adjacent-ownership search.
Identify a parcel using a geometry, address, or any one of the LightBox IDs.
Add Parcel boundaries and interactivity to your mapping applications.
Assessments API
API endpoints work with the SmartFabric Assessment layer. 
Access to ownership, address, building characteristics, zoning, lot size, sales information. and much more.
Identify an assessor record using a geometry, address, or any one of the LightBox IDs.
Add Assessment points and interactivity to your mapping applications.
Addresses API
API endpoints work with the SmartFabric  Address layer.
Access the complete address universe that fuels the LightBox Geocoder.
The ability to ask for all the addresses that are related to a Parcel, Structure, LocationInfo, or Assessment record.
Understand if the address is a business or a residence, or if it is primary or a secondary address.
Add address points and interactivity to your mapping applications.
Connectivity is returned with LightBox IDs from the Parcel, Structure, Assessment, and LocationInfo records related to the returned address.
Structures API
API endpoints work with the SmartFabric Structure layer.
Return all structures that are on a parcel, assessment, or address using any one of the LightBox IDs.
Return ground elevation, building height, square footage and the geometry that makes up the first-floor footprint.
Add structure polygons and interactivity to your mapping applications.
Additional APIs that can be added to your subscription
Supporting APIs help to further realize the telecom potential.
Demographics API
API endpoints work with the our Demographics layer.
Attributes include, age, race, college attainment, consumer spending, and much more.
Return demographic records by point and radius.
Add Demographic polygons and interactivity to your mapping applications.
Zoning API
Gain a more complete picture of parcel data with deeper data from a single source.
Provides zoning code, floor area ratio, setback requirements, building height, and more.
Each zoning record returns a URL back to the municipality's ordinance.